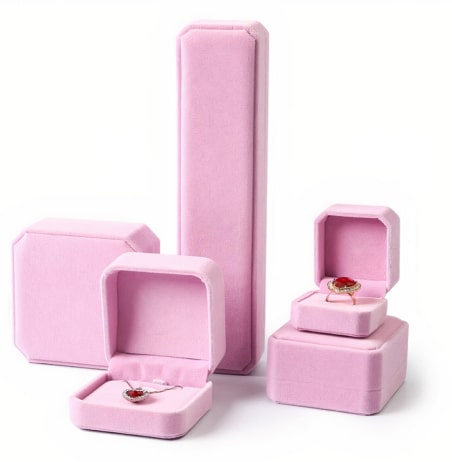 Designed with versatility in mind
An elegant way to keep your jewelry secure
This lovely jewelry box set is perfect for smaller pieces of your accessory collection. It provides enough space for all types of jewelry, from earrings and bracelets to rings and pendants.
Jewelry box details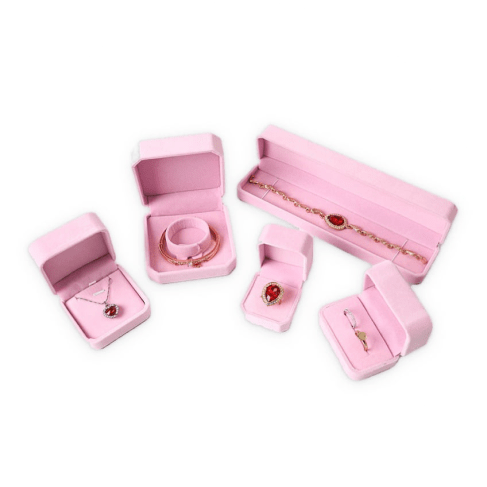 Size
This set includes seven boxes: a ring box (2*2.2*1.6 in.), a couple's ring box (2.8*2.2*1.6 in.), three necklace boxes (2.6*2.6*1.6 in., 2.6*3.3*1.6 in., 2.6*3.9*1.7 in.), and two bracelet boxes (3.5*3.5*1.7 in., 8.9*2*1.6 in.).
Material
All the boxes of the set are made of velvet. The boxes are of a cute amaranth pink color.
A gift to remember
To make your gift special and remarkable, surprise your loved one with splendid jewelry wrapped in one of these lovely velvet boxes. It will be perfect for special occasions, like proposals or anniversaries, as well as for daily storage.
Affiliate Disclosure
shefam.com is a participant in the Amazon Services LLC Associates Program, an affiliate advertising program designed to provide a means for sites to earn commission fees by advertising and linking to the following web sites.
Product prices and availability are accurate as of the date/time indicated and are subject to change. Any price and availability information displayed on [relevant Amazon Site(s), as applicable] at the time of purchase will apply to the purchase of this product.